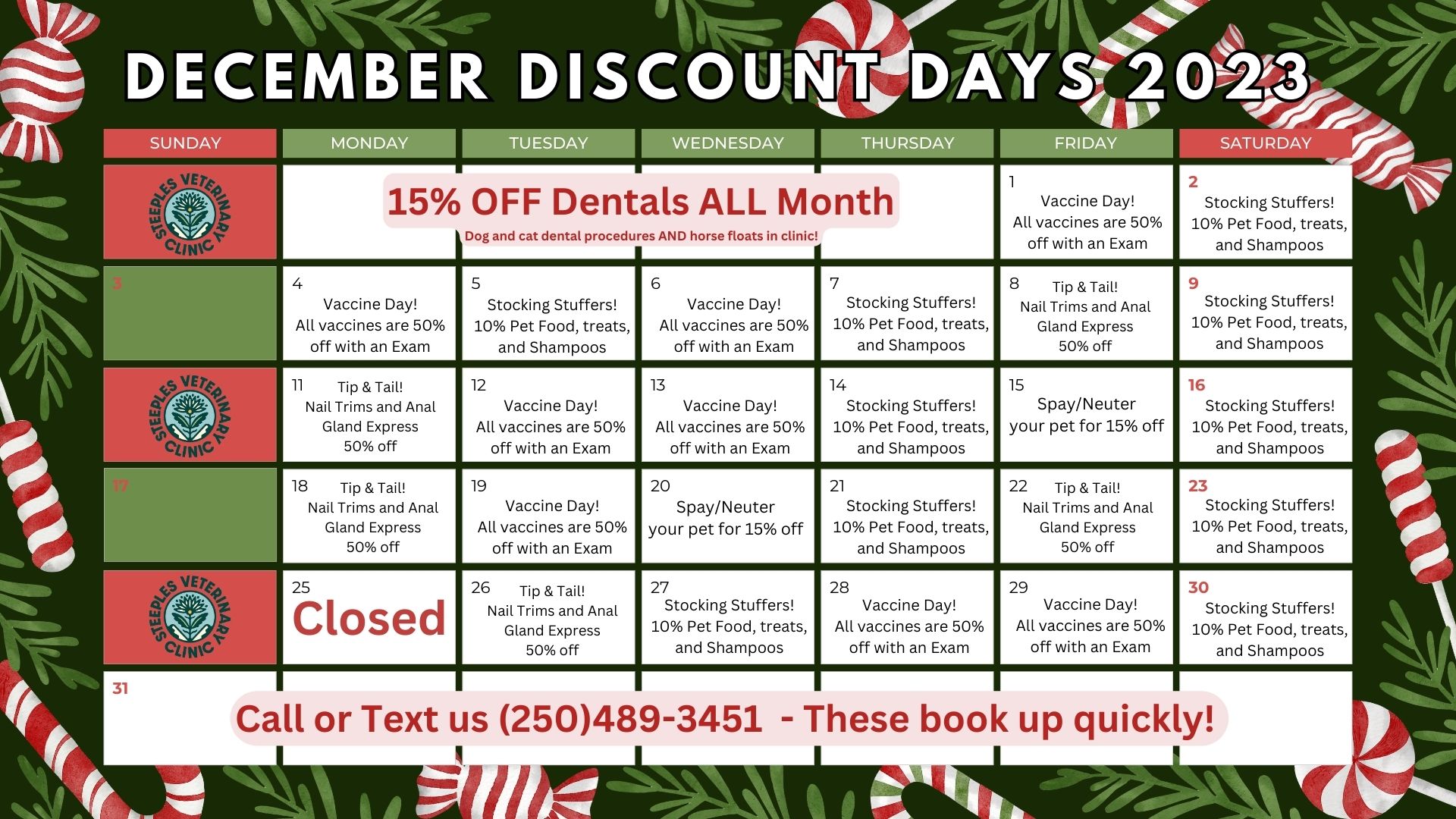 Dear Valued Clients,
Happy December from the team at Steeples Veterinary Clinic! As the holiday season is upon us, we wanted to share some important updates, tips, and information to ensure the well-being of your pets during this festive time.
Holiday Safety Reminders:
The holidays bring joy and celebration, but they also present some potential hazards for our pets. Here are a few reminders to keep your pets safe and healthy:
Deck the Halls Safely:
Be cautious with holiday decorations, such as tinsel, ornaments, and lights. These can be tempting for pets but pose a risk if ingested or played with. Consider pet-friendly decorations and secure any potentially harmful items out of reach.
Seasonal Plants:
While poinsettias and mistletoe are beautiful additions to holiday decor, they can be toxic to pets. Keep these plants out of reach, and if you suspect your pet has ingested any, contact us immediately.
Watch the Treats:
With all the delicious holiday treats around, it's essential to be mindful of what your pets consume. Some human foods, such as chocolate, alcohol, and certain fruits, can be harmful to them. Stick to pet-safe treats and consult with our team if you have any concerns.
December Discount Days:
'Tis the season for giving, and at Steeples Veterinary Clinic, we're excited to spread some holiday cheer with our December Discount Days! Enjoy special pricing on a variety of services every day throughout the month. Check our "December Discount Days" calendar to discover exclusive offers tailored to meet your pet's needs. Also, through the entirety of December, we will be doing another Dental Month where you can get your dogs, cats, and horses dental procedures done at 15% off!
Here's a sneak peek at some of the daily discounts. Check out the calendar for which days these fall on!
Vaccine Days – All vaccines are 50% off when you get a Preventive Health Exam
Spay/Neuters for 15% off
Stocking Stuffers – 10% off Food, Treats and Shampoos
Take advantage of these fantastic offers to ensure your pets are happy and healthy during the holiday season.
Schedule Your Year-End Check-up:
As the year comes to a close, it's an excellent time to schedule a year-end check-up for your pets. Regular veterinary visits help detect and address any potential health concerns, ensuring a happy and healthy start to the new year.
Warm Wishes from Steeples Veterinary Clinic:
We want to express our gratitude for entrusting us with the care of your pets throughout the year. As 2023 comes to a close, we look forward to continuing to provide the highest quality veterinary care in the coming year.
If you have any questions, concerns, or would like to schedule an appointment during our December Discount Days, feel free to contact us at [clinic phone number] or [clinic email].
Wishing you and your pets a safe, joyful, and healthy holiday season!
Sincerely,
The Team at Steeples Veterinary Clinic